Whirly Gig: Inside The Time Out Of Mind Sessions (A Book Review)
Time Out Of Mind is Bob Dylan at a specific point in time; it's a collection of songs that could not have come from the 60s,70s, or 80s. He's older than that now, and we can hear it.
It's also an album that marks yet another turning point in a career full of them. For the 15-20 years before Time Out Of Mind, Dylan produced what was (for him) inconsistent, often unsuccessful, and increasingly culturally irrelevant work (within which of course there were glorious highs). After Time Out Of Mind, Dylan delivered an unprecedented 'third act' of excellence and acclaim.
So how did Bob Dylan get from Under The Red Sky to Time Out Of Mind?
In Whirly Gig, John Lewis shares new insights into the final steps of this reinvention; how just the right cocktail of instinct, intentionality, people, creativity, and coincidence delivered an album with so much impact and resonance.
Heading For Another Joint
We know how this particular reinvention began: Bob set out on the Never Ending Tour in '88, and he went home in '92 (after a shot at a covers album with Bromberg in a Chicago studio just a month or so earlier) and recorded Good As I Been To You and World Gone Wrong. Both were deliberate efforts to get on a new path, or at least to get off the old one. If you're in a hole, the first thing you do is stop digging.
But what is the second thing you do?
Does Bob have a clear destination in mind when he executes these transitions, or does he just know he needs to be somewhere new? It seems that like many other innovators he's willing to start off in a new direction with the understanding that there is at least one <insert magic here> gap in the plan, trusting that it will be resolved in time, through fortitude, luck, or providence.
Of course, Dylan has found the magic he needed for big transitions many times.
Sometimes the journey starts because of some external influence – the motorcycle accident and becoming a father help explain the move from Blonde on Blonde toward John Wesley Harding. A messy divorce and a cross thrown on-stage in San Diego likely played a role in the shift from Street-Legal toward Slow Train.
In the case of Time Out Of Mind, we know that Dylan showed up at The Teatro Theater in Oxnard CA in the Fall of 1996 with some lyrics and songs he wanted to work out. And we know that he then dragged producer Daniel Lanois, engineer Mark Howard, and a long list of musicians down to Criteria Studios in Miami in early 1997.
But by all reports – and apparently the recorded evidence – the magic hadn't happened yet. There was still great uncertainty, and some disagreement about exactly where the sound was going.
This is where Whirly Gig comes in, offering some new insights and evidence as to how Bob arrived at a version of Time Out Of Mind that satisfied both him and us.
Secret Weapons
Author John Lewis had two secret weapons. First, he was a long-time friend of musician Jim Dickinson, who played a vital role in the recording of Time Out Of Mind. Secondly, he spent several weeks in The Bob Dylan Archives in Tulsa, OK listening to the raw session tapes from the Time Out Of Mind sessions. He's the only writer we know of so far that has had that opportunity.
Leveraging these two unique caches of knowledge, Lewis has written a fantastic little book. The name "Whirly Gig" comes from a studio queue sheet reference to a sound that was played at the album recording in Miami. It's a clever name for the book, but it also could have been called "Jim Dickinson and The Time Out Of Mind Tapes".
Jim Dickinson
James Luther Dickinson – as his early records and credits call him – looms large in Whirly Gig. At least a third of the book is focused on him, but it's justified. He's the kind of musician's musician with a pedigree that Bob Dylan loves: He played with Aretha, Sleepy John Estes, and Kris Kristofferson (to name a few), and he was an assistant to Street-Legal producer Jerry Wexler.
More importantly, he's a talented man who's secure in his own opinions in a way that Dylan seems to respect. As much as anything else Whirly Gig is about their relationship, and how it impacted Time Out Of Mind.
Dickinson notes that after the sessions took place he came to believe that he was brought in to impact or play a role in the dynamics between Dylan and Lanois. Some of that seems to be as a counterweight, or a presence, helping Dylan to navigate where he wants to go. This, along with his substantial and distinctive musical contributions, prove significant for the project.
The Tapes
Five hundred – that's how many audio files associated with the making of Time Out Of Mind John Lewis listened to in Tulsa. These represent work from the early days in Teatro through the three weeks at Criteria Studios in Miami, and presumably then back to the mixing work done in Oxnard CA.
Most of us have heard just 22 of these (11 on Time Out Of Mind, 10 more on Tell Tale Signs, and now 1 preview track from Bootleg Series 17). We're going to get 24 more on the forthcoming Bootleg Series release. That will still leave John Lewis 454 tracks ahead of us.
What we are told is that the recordings and versions John listened to in Tulsa confirm for him the early promise and tension in Oxnard, the initial chaos and failures of Miami, and eventually the point in time when the necessary forces fell or were willed into place. But the tapes also demonstrated missed opportunities, and the critical role of mixing and production decisions.
But this book is not a catalog, not a song-by-song or a take-by-take analysis. In fact, it barely mentions what all these tantalizing files contain. The recordings are the background for the story told in this book, but they are not its focus.
We'll have to wait for someone else to spend the time and energy to give us the Time Out Of Mind equivalent of the splendid Surviving In A Ruthless World: Bob Dylan's Voyage to Infidels by Terry Gans – a deep dive and detailed review of the album's recording process as revealed via the raw tapes.
The Ghost of Electricity
Even with the voice of Jim Dickinson and the sound of the tapes, one critical 'side of the story' feels like it remains unclear and under-represented – that of Daniel Lanois.
Dickinson shares new details and insights into the tempestuous relationships that Dylan had with Daniel Lanois . He confirms that the relationship was acrimonious, and reports that you can hear bickering and even shouting during the in-studio chatter on the tapes. We get a few quotes and the feel for the push/pull that was going on between the two men.
What we still don't know are details and implications of the apparently combative relationship that Dylan and Lanois had once they got to Miami; where were concessions made by one side or the other, where did the tension benefit the result and where, in retrospect, did it harm it. In his comments Dickinson is respectful towards Lanois and the results he produced, but he is not without comment, criticism, and questions.
Clearly Lanois played a huge role and gave the album his 'signature sound'. But it's also clear that Dylan didn't just hand over all decision making. We know that Mark Howard played a role beyond that often expected of the engineer, and here we get a sense of Dickinson's role and influence. Whirly Gig adds color but it does not fully untangle this part of the story. I tried to nail this down further in a recent talk with Mark Howard and failed as well.
It's worth noting that it seems like the Dylan camp doesn't want this part of the story told. And Lanois isn't talking either — his public statements have always been deeply respectful, intentionally vague, and ultimately not particularly informative. Hopefully someday he opens up and this part of the story gets fleshed out.
A Worthwhile Companion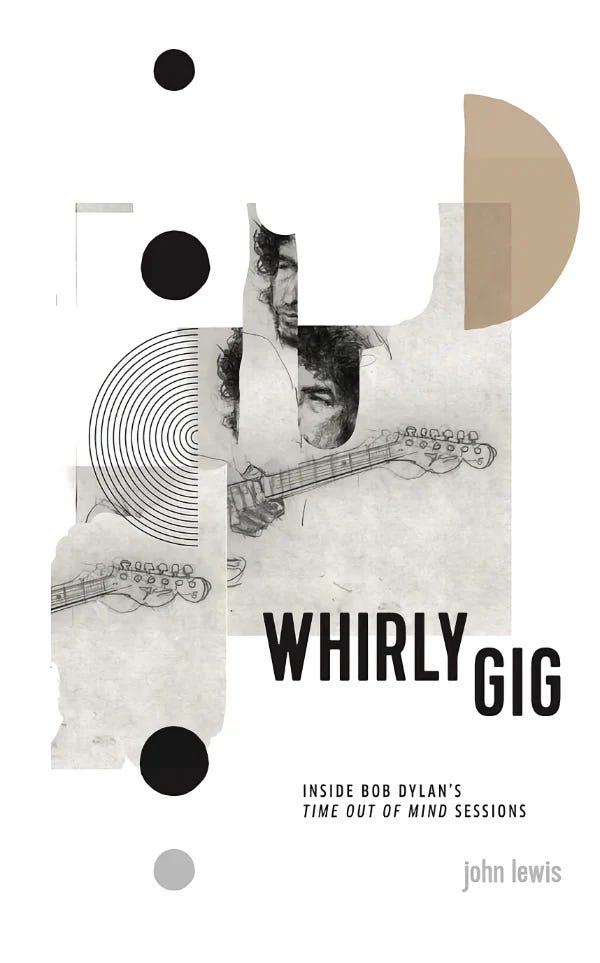 Nevertheless, Whirly Gig is a vital book for Time Out Of Mind lovers; it tells us what was going on behind and sometimes in between the scenes, filling in gaps and extending what we know about the making of this great album. It helps to explain how Dylan found the magic he needed to get the sound (and ultimately his career) where he wanted it to be.
There was fortitude, there was luck, and there was providence. Dylan may not have known where he was headed, but he got there.
Whirly Gig is a thin book at less than 100 pages, but it is beautifully produced, well written and edited, and also thoughtfully illustrated and designed (a rarity for this kind of release). It's a very enjoyable read and adds something important to what we know about Time Out Of Mind.
Dylan.FM shares news, posts, podcasts, videos and more on web, Substack, YouTube and social.